J.L.Juggler
"J.L.Juggler" converts JFilePro database to List database.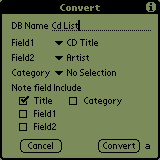 Function
Converts JFilePro database file to List database file on PalmOS.
You can read JFilePro database in List.


Link
JFile Pro
http://www.land-j.com/
List
http://www.magma.ca/~roo/



How to use
Install this application (JLJuggler.prc) .
Install JFilePro databases which you want to see.
(See PalmDesktop Manual)

Start J.L.Juggler.
Select database which you want to convert to List database.

Check data and select "Convert..." in menubar.

Name new database name.
Select Field1 and Field2.
(category is under constructions)
If you want to include title , check "Title".
If you want to include Field1(Field2), check "Field1(Filed2)".
And click "Convert" button.
Wait a minute.



Download
Download here. ( It named like "jljuggler.zip" . )
Archive is not include Englsh documents.
Please, save this page.



Update
Beta released . Some bug fixed. (Feb 13, 2001)
Beta released . (Feb 12, 2001)


Bug...
Soory , there is some bugs.
Large JFilePro database cause fatal error , sometime.


Freeware
" J.L.Juggler " is Freeware. You use it freely. But it is beta. Be careful.
( There is some bug. )



---
Return
---
yutakano (yutakano@tim.hi-ho.ne.jp) Feb 14, 2001