Tourmaline Necklace and Bracelet
You can order our beautiful Tourmaline now!
| Item: TRM-001 | Item: TRM-002 |
| --- | --- |
| Tourmaline Necklace 42cm | Tourmaline Bracelet 19cm |
| | |
| 16,000JPY | 10,000JPY |
Prices include shipping

Click to enlarge the image of the Tourmaline.

Colour of the images may vary slightly from the real products depending on your display.
Prices are subject to change without notice.
---
Miraculous Stone Tourmaline!
Tourmaline's name comes from the Sinhalese word "turmali", which means mixed gemstones. It was believed to promote continued good health, so it became a favourite jewellery stone. As long as the Sun exists, it continues to emit negative ions for ever, which work for:
Activating metabolism
Purifying blood
Strengthening immune system and lungs
Alleviating allergies
Stabilising mental conditions
We cannot guarantee a tourmaline stone can cure your disease since it is not approved as medicine by the department of health but we have got following feedback from our customers.
Relief from shoulder pain
Less likely to get exhausted
These beautiful stones make you healthier!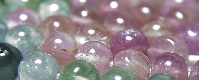 ---