Fresh Water Pearl Necklaces
You can place an order now!
Item: FWP-001 White Colour Necklace 42cm
Item: FWP-002 Salmon Colour Necklace 42cm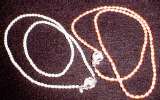 7,000JPY

The price includes shipping

Click to enlarge the image.

Colour of the images may vary slightly from the real products depending on your display.
Prices are subject to change without notice.
---
The History of Pearl
Today's birthstone for June has a history more ancient than does any other gem. Twenty-three hundred years before the birth of Christ, natural pearls were being strung into necklaces in China. The pearl has been the wedding gem since 1000 BC according to Hindu literature. Used in the Bible to denote wealth, no other gem is as simple, elegant and sensual as a pearl. Pearls were once thought to be the tears of God.
How to take care of pearls, the Queen Gems.
They are less durable than most gems.
Protect them from temperature extremes.
Keep them away from cosmetics, perfume and hair spray.
Clean regularly by wiping gently with a soft cloth.
Never close them up in an airtight container. They will be suffocated!!
Your pearl will last a lifetime with proper care and become more beautiful with age.
---
Back to Home | Order